Lovense, the world's leading teledildonics producer and innovator of remote-controlled sex toys for couples. The new Lush 2 takes everything that was great about its predecessor – premium silicone material, lightweight design with powerful vibrations – and packs it into a more compact egg shape!
Long-distance sex just got a lot more intimate! With Lush 2, control the vibrations from any distance. You can use your voice to do it or music beats for some fun and creative ideas. The toy is fully submersible too so you don't have to worry about ruining anything during solo play in public places either
Lush 2 is a creative, powerful toy that you can control with your phone. The bulbous part of the vibrator has an antenna so it always stays connected to Bluetooth when used internally and outside of the vagina for good measure. Underneath its matte-textured silicone surface lies a strong motor which makes Lush2 stronger than ever before!
The Lush 2 vibrator has a curved bulbous part that is perfect for pleasurable insertion. The antenna, which doubles as the handle to remove it from its packaging, provides an excellent grip and allows you to better control your experience with strong vibrations throughout the vagina area. And if color means anything at all – this toy comes in hot pink! 
The Lush 2's control button is located right on the tip of its antenna, and allows you to turn it off or adjust settings even when wearing the device.
The Lush 2 is a small but powerful love egg. It's 4 times more intense than most other eggs on the market, and its motor provides better performance that lasts longer too!
Use it internally for amazing foreplay results with low vibration; turn up the intensity to get some humming sounds going so you can really feel what this toy has in store for you when your wet slipper makes contact.
The Lush 2 will make you moan, even if it doesn't hit your G-spot every time! It is easy to use externally on the clitoris so that climaxes are guaranteed. You can go for as many rounds as possible thanks to its long battery life – a definite plus when getting busy and keeping up with an active lifestyle.
In addition, you can control the level of vibration from your phone or your partner's at any distance through the Lovense app.
Lush 2 produces low noise when in use, and it's one of the quietest egg vibrators on the market. Even if you turn your toy to its highest vibration setting, you'll only hear 50db! That's about as loud as a conversation at home –  nothing too noticeable at all! And inside the vagina? It gets even quieter– because apparently that natural sound blocker can dampen any sounds- which is perfect for public playtime since no one will be able to tell what we're up to 😉
Want a comfortable toy that will leave you feeling satisfied and relaxed? Lush 2 is just the thing for you! This vibe can be worn in any position, whether sitting or standing. All it takes to make this wearable egg vibrator even more pleasurable are some lubricant and plenty of lube!
This is extremely handy when it comes to hands-free play because you can bend the antenna in a hook shape and let it be well attached to your underwear. In this way, with just one hand free, you can still experience intense vibration during phone sex or foreplay.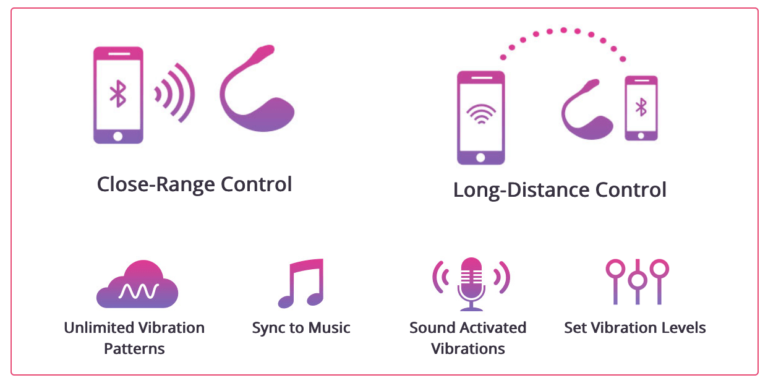 The Lush 2 bullet vibe offers a level of intimacy that you can't find with many other toys. The most appealing feature is its App-control function, which enables your partner to control the vibrations from anywhere in the world! So if he's far away on business or out late at night and wants some private time for both of you – then this will be an excellent option. You can also let it vibrate along with any sound or music beats sound great too!
If you also have other toys from the Lovense company, all the toys can be added to the app and controlled at any time! A painless setup is amazing when we're trying to fit sex into our busy schedules.
One of the biggest updates Lush 2 has is its battery. With a new, more efficient design for it, Lovense was able to increase how long you can use this toy before needing another charge. Now with 30% longer-lasting power packed into each charge-up, users will be getting even more bang for their buck!
Want to get wet and wild? Lush 2 is here for you! With this toy fully waterproof, the possibilities are endless. You can take your play in the pool or bathtub with no worries about water damage; plus it's easy to clean afterward.
Lush 2 Bullet Vibrator
USB Charging Cable
User Manual and quick set-up guide
It is a shame that it does not come with a storage bag. It seems like such an obvious thing for all sex toys to have, but unfortunately, this one doesn't.
How to Use Lush 2 without the Lovense App
If you'd prefer to ride solo or just without the app, the antenna is at the tip of the Lush 2 features a simple on/off button which allows one-touch control of seven different vibration settings! These include:
Low Vibration (continuous vibration)
Medium Vibration (continuous vibration)
High Vibration (continuous vibration)
Pulse (Pattern)
 Wave (Pattern)
 Fireworks (Pattern)
 Earthquake (Pattern)
How to Pair the Lush 2 with the App
Next, download an app called "Lovense Remote" which supports all mainstream devices including iPhone/iPad (OS), Android phone or pad (operating system) as well as Macs and Windows PCs with a stable internet connection; this will allow me to play naughty whenever I want ;).
Next, download an app called "Lovense Remote" which supports all mainstream devices including iPhone/iPad (OS), Android phone or pad (operating system) as well as Macs and Windows PCs with a stable internet connection; this will allow me to play naughty whenever I want ;).
After signing up and adding the app to your account, search for a toy by tapping on its name. When found simply tap 'Done'.
When you are finished playing with vibrations adjust vibration intensity by dragging buttons found in pink at bottom of the screen.
Finally, you can connect the Lush 2 with your partner(s). In order to do this, tap "Long Distance" in the bottom right corner of the phone screen -> Type a "+" and type in their username. Once they accept your request for connection via chat or video call, you will be connected!
In order to use the Lush 2 vibe, it must be charged. To charge up your toy, make sure that you have a USB charger plugged into any available port, and then insert the pin of your vibrator firmly in place until it is fully seated. A red light will indicate when charging has started while turning off once finished after around 1½ hours. A full charge will last you about 2 hours of continuous playtime. That should be enough 😉
It is imperative to clean the Lush 2 before and after each use. It's really easy to maintain, as it can be fully submerged in soapy warm water or any sex toy cleaner.
It's suggested to apply lube on the Lush 2 and your body before insertion. Make sure only use a water-based lubricant, as irreversible damage can be done if you use silicone or oil-based products.
Lush 1 vs Lush 2: Comparison Chart
| Features | Lush 1 | Lush 2 |
| --- | --- | --- |
| App Control | ✓ | ✓ |
| 100% Silicone | ✓ | ✓ |
| Waterproof | ✓ | ✓ |
| USB Rechargeable | ✓ | ✓ |
| Warranty | 1 Year | 1 Year |
| Control Button | Located on the bulbous part | Located on the end of the antenna |
| Battery Life | 1.5 hours | 2 hours |
I've been trying to find a discrete vibrator that I could use when my partner is not around. Although there are many options available, none of them have really stood out and satisfied me until I found Lush 2! The design for this toy was so sleek it looked like an Apple product–clearly designed by someone with great taste in hardware aesthetics. When you turn on the device, the lights inside swirl as if they were alive and excited to be used (talk about immersive!).
This plus its flexible antennae make long-distance play possible without any discomfort or feeling disconnected due to your lack of physical contact. I would recommend this toy for anyone looking for a powerful yet discreet vibrator that outperforms, the Lush 2 is perfect. It can be controlled at any distance and it's wearable! You'll love how this toy will make your vagina or clitoris feel!